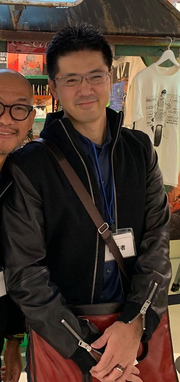 Yusuke Murata
(born July 4, 1978) is a Japanese mangaka. Born in Miyagi, Japan, he is best known for his work in illustrating the redrawn version of
One-Punch Man
as well as in collaboration with Richiko Minagaki, illustrating
Eyeshield 21
. He is perhaps most well known for his intensely detailed drawings.
One-Punch Man (2012-present)
Partner (1995)
Samui Hanashi (1998)
Kaitō Colt (2002)
Eyeshield 21 (one-shot with Riichiro Inagaki; 2002)
Eyeshield 21 (series with Riichiro Inagaki ; 2002–2009)
Madofuki Park (2008) (One shot)
Hetappi Manga Kenkyūjo R (2008–2010)
Blust! (2009)
Minds (2010)
Donten Prism Solar Car (with Yasuo Ōtagaki; 2010–2011)
Dotō no Yūshatachi (with ONE; 2012)
Dangan Tenshi Fan Club (with ONE; 2012)
Monster of Earth (地球の怪獣) (with ONE and Kinu Nishimura; 2013)
Gokiburi Buster (with ONE; 2015)
Back to the Future Comic (Canceled)
Murata's favorite characters are the Deep Sea King and Boros because of the impact they left.[1]
Murata's least favorite character is Sweet Mask so he draws him as handsomely as he can so he can grow to like him more.[2]
References
Edit