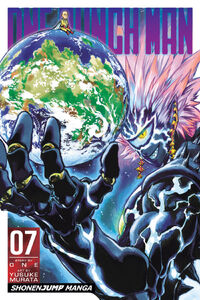 "Battle" is the seventh volume of the One-Punch Man manga series.
When aliens invade Earth, a group of Class S heroes finally finds a way to fight back and go on the offensive! Inside the enemy mother ship, Saitama fights Boros. Faced with the alien's frightful power, he decides to get serious!! What is the Earth's fate?!
Chapter List

Edit

Release Info

Edit

Release date: December 4, 2014
ISBN: 978-4-08-880262-6
Ad blocker interference detected!
Wikia is a free-to-use site that makes money from advertising. We have a modified experience for viewers using ad blockers

Wikia is not accessible if you've made further modifications. Remove the custom ad blocker rule(s) and the page will load as expected.