This article is about the volume. For the chapter, see Chapter 55.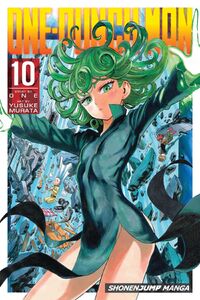 "Fighting Spirit" is the tenth volume of the One-Punch Man manga series.
Volume Notes
Edit
On the inner book cover, the name of the mall that Saitama bought the bananas for Mumen Rider from is different from the plastic bag at the hospital, they were supposed to match. Murata planned to fix it on the new printing of the tankōbon.[1]
For the picture which Fubuki and Tastumaki shops together, Murata regrets not drawing the sailor clothes for Fubuki, because when Fubuki was young, she should look like a normal kid like any other.[2]
References
Edit
Ad blocker interference detected!
Wikia is a free-to-use site that makes money from advertising. We have a modified experience for viewers using ad blockers

Wikia is not accessible if you've made further modifications. Remove the custom ad blocker rule(s) and the page will load as expected.