As Sonic became a villain, he is quickly taken to prison, but manages to break out several times, often in the blink of an eye, until the guards are forced to put him in restraints and send him to the maximum security Smelly Lid Prison. There, he effortlessly defeats the prisoners who dare to challenge him, even causing one to scream out in pain, which in turn causes the "boss," Puri-puri Prisoner, to shout at the other prisoners in irritation. After listening to a description of Puri-puri Prisoner, Sonic then witnesses his breakout due to watching the Deep Sea King's rampage on television; recognizing his strength, he follows the man out of the prison.[1]
Sonic encounters Saitama in the K-City Nature Park and challenges him to a fight once more. He tries out his new equipment against Saitama and initially it seemed to work. However once again, Sonic loses when Saitama accidentally elbowed him in the groin and he lets Sonic go again.[2]
The Ninja Who is Too Complicated
Edit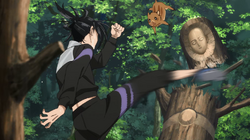 After losing against Saitama, Sonic began having nightmares and flashbacks of the incident. His confides his worries to a matagi, who consoles him about his fears. As he was training, he saved a small baby boar, who he later named Ino and together began training to become stronger. He regains his confident and after defeating Saitama in his visual training, he decided to leave, saying farewell to the matagi, who later corrected him about his name. Sonic later silently watched over the city, ready for his next battle. [3]
References
Edit
↑ One-Punch Man OVA; The Ninja Who is Too Complicated