Lightning Max vs. Suiryu
Information
Location
C-City Super stadium
Chapter(s)
62
Episode(s)
N/A
Outcome
Suiryu is victorious
Combatants
Hero Lightning Max
Martial Artist Suiryu
Abilities/Techniques
Lightning Max

Giant Wheel Double Heel Drop

Suiryu
Damage Sustained/Casualties
Lightning Max is knocked unconscious
Suiryu is uninjured
Chronology
Previous
Fubuki and The Blizzard Group vs. Do-S
Next
Genos vs. Face Ripper
Lightning Max vs. Suiryu is the match between the A-Class hero Lightning Max and the martial arts prodigy Suiryu.
Max and Suiryu both participate the Super Fight Tournament. This is the first time Lightning Max participated while it is the fifth time for Suiryu. After Max defeated Lin Lin, he surprised the audience because he was labeled a reverse seed, a contestant who was perceived weak. As Suiryu enters the arena, the audience is gleefully watching with anticipation and the Super Fight Announcer announces the fight between the contestants.
Max tries to picture Suiryu as the Deep Sea King so that he can overcome his fear. Max tells Suiryu that Suiryu's strength is minuscule compared to the monsters and as the referee executes the match and Max charges at Suiryu.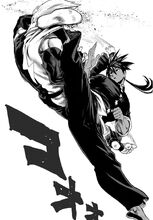 Max begins to tumble towards Suiryu and uses his new attack the Giant Wheel Double Heel Drop, but Suiryu easily outmaneuvers him and kicks Max to the edge of the ring, knocking Max out. This shocked the audience and the other competitors and Suiryu sarcastically apologizes for being too strong.
Aftermath
Edit
Suiryu managed to impress many, including Genos, who was observing the match.